Are you looking for opportunities to earn money online? Well! You might find the Temu Affiliate program helpful. Temu platform always seeks talented content creators to promote their products.
But is promoting through Temu's affiliate program worth your time? Absolutely! Temu's affiliate program offers generous commissions compared to other major retailers like Amazon. But remember, Temu's affiliate program only rewards first-time sign-ups, not returning customers.
It may be more challenging to make money once your audience uses Temu. And the result can be impressive if you work hard. If you're considering joining Temu, In this "Temu affiliate program Review" we've shared our insights on the Temu affiliate program to help you make a more informed decision.
What is Temu?
Before we go into the "Temu Affiliate Program Review" lets understand what Temu is? Temu is an e-commerce platform that allows shoppers to connect with millions of sellers, vendors, and brands. 
No matter what you're looking for, from exciting products at reasonable prices to renowned brands, useful tools, and the latest fashion trends, Temu has it.
Temu's most notable feature is its referral program, attracting many people's attention. Temu is becoming a trend in many countries, and its user base is growing rapidly.
Temu Affiliate Program Review – Know Everything about Temu Affiliate Program
In this "Temu Affiliate Program Review" we added all the information about this Affiliate program along with its pros and cons. Using Temu's affiliate program, you can earn money by promoting others' products. You'll receive a commission when sales are made through your unique referral link. 
This innovative feature is exclusive to the Temu App, allowing you to collect rewards for each new user who downloads it using your code or link. You can earn up to $100,000 monthly by bringing new customers to Temu as an affiliate.
It is an excellent program for those who can attract customers to the platform, no matter what products or brands they promote. You can earn extra cash if you believe your audience will enjoy the product.
Benefits of the Temu Affiliate Program
You don't need any requirements to become an affiliate.
The commission structure is attractive, and you also receive rewards for app downloads.
An easy-to-use, user-friendly platform offers tools and resources for promoting Temu effectively.
Upon reaching the $20 payout threshold, you can withdraw your earnings via PayPal. This is relatively low compared to other affiliate programs.
You can earn more each day by taking advantage of bonus promotions.
Negatives of the Temu Affiliate Program
There are no rewards for returning shoppers right now. You'll need to keep attracting new users to keep your earnings high.
There's a real risk of saturation with Temu because it advertises heavily and is growing fast.
Many affiliate programs can be shut down, or commissions can be lowered anytime.
A ban or removal of Temu from app stores may also be a result of geopolitical concerns.
People with more experience and technical skills can't use advanced features.
Is the Temu Affiliate Program legit?
Are you wondering if Temu Affiliate Program Legit? That's true! This affiliate program is 100% legitimate and pays you a real commission for every sale you generate. Temu Affiliate Program is one of the easiest ways to make money online, and many people have earned over $10,000. It's just a matter of copying and sharing your link. You can even make money while you sleep! Each new App user download will earn you $5, and every new customer order will earn you 20%.
Temu Affiliate Program Review – How Does Temu Affiliate Work?
Temu's affiliate program provides individuals the chance to earn money by promoting the company's products on their websites and social media sites. Here's how Temu Affiliate works:
You have to register with Temu Affiliate first. You'll get an affiliate link to share with your audience whenever you're approved.
Temu pays you when people click your affiliate link and buy. Promoting your affiliate link can be done through your website, blog, social media channels, email list, or any other channel you choose.
Affiliate links can earn you up to 20% commission. The commission percentage depends on the product and the affiliate program.
You may track your sales and commissions through Temu Affiliate's dashboard. Commissions are paid through PayPal every month.
How much commission does Temu Affiliate Program pay?
The affiliate program at Temu offers a simple commission rate. You can earn commissions in the following ways:
Each time a new Temu App user downloads your code, you will get $5.
By referring a customer to your unique link and they make a purchase, you receive a commission. The amount of the purchase determines what you earn.
Below are Temu affiliate program commission rates based on purchase amounts:
5% commission on $0.00 to $49.99
10% commission on $50 – $99.99
20% commission on $100 or more
You get $10 if your affiliate makes their first commission
You can earn more with ongoing bonus campaigns if you sign up new users. For example, a bonus campaign pays $5 for referring 3 new users, $30 for 10 new users, and $200 for 50 new users. There's a good chance these bonus campaigns will change constantly to keep affiliates excited.
What's the process for withdrawing Temu Affiliate Rewards?
It's easy to withdraw your Temu Affiliate Program rewards if you have a $20 or more wallet balance.
You might have to verify your mobile phone number before receiving payments. If you have requested a withdrawal, it will be sent via PayPal within two business days.
Here's what happens when you earn commissions through Temu:
You can earn money by participating in different events. You will receive a commission if someone orders through your link.
The commission will take 12 hours to be credited to your pending account. After delivery, the money will be deposited into your bank account within three days.
Once you have downloaded the app, you will receive cash in your account within 12 hours.
What are the steps to becoming a Temu affiliate?
Temu Affiliate Program has an easy sign-up process, and you don't have to submit complicated tax forms or meet any specific requirements.
Join the Temu Affiliate Program and download the Temu app. This option will earn you a $100 Temu Sign Up bonus + a 30% discount on your purchases.
Register as a Temu Affiliate on your phone.
Here's how you can join Temu Affiliate Program over the phone:
Install the app and sign up with an email address or social media account.
The next step is to copy and paste the Temu Affiliate Code.
You'll see "Get 30% + $100 Temu OFF" or "Sign Up for Affiliate Program."
Sign up for the Temu Affiliate Program and immediately get $5 in your wallet.
Take advantage of a Temu $100 Coupon bundle on your first purchase to save money.
Register as Temu Affiliate Program on Browser
You can join the Temu Affiliate Program through your browser by following these steps:
First, you'll need to sign up for the Temu Affiliate Program.
If you don't have an email account, use a new password, or sign up with social media.
If you click the big "Sign Up" button, you'll earn $5.
Signing up will give you an exclusive Temu Affiliate Link, that you may share with friends and family for a fee of $5 each. You'll get a 20% commission if your referral buys something.
Temu's affiliate program vs. its influencer program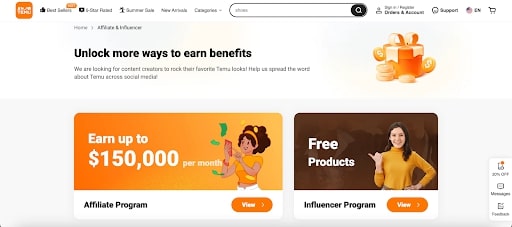 Temu has an affiliate program and an influencer program.
You can join their affiliate program if you want to earn commissions by referring customers to Temu. Anyone can participate. As a Temu affiliate, you will receive a commission when a sale is made using your unique affiliate link.
Temu's influencer program is exclusively for social media influencers. As a Temu influencer, you will receive complimentary products and exclusive discounts and earn extra income.
Need help with Temu Affiliate Program? Here's what you need to know!
If you need help getting your Temu Affiliate Bonus, you can do some things. Here's what you might find helpful:
Referrals – Those who've already downloaded the app won't be rewarded if they invite more than one friend.
Clear your cache – When you clear your browser's cache, you can fix problems caused by corrupted or outdated data.
Change your browser – Using a different browser could solve your issues with a particular one.
Support from Temu – We may not solve the problem for you so you can contact Temu support for more help.
FAQs
What is Temu Affiliate Program?
The Temu Affiliate Program provides a monetization opportunity for bloggers, publishers, and digital content creators. Affiliates earn rewards by referring new users through their personalized referral links. Anyone who downloads the TEMU App using the affiliate's referral link receives a $5 reward. Also, affiliates can earn a commission when a newly registered user clicks on their link and makes a purchase.
Where Can I Get Temu Free Money Codes?
There are many ways to earn free money and rewards on Temu, like free money codes. You can use these codes at checkout for discounts or cashback rewards. With Temu's referral program, you can earn rewards by referring your friends and family. Temu also offers promo codes through its social media accounts and email newsletters.
What is the way Temu makes money?
Temu derives its revenue from a percentage of all purchases made through its platform. Temu merchants pay the commission. Unlike Amazon and eBay, Temu charges low double-digit fees or high single-digit fees, neither of which differ much from the fees charged by traditional online marketplaces like Temu.
Where Does Temu's Money Come From?
You can make money with Temu in several different ways. The app has a referral program where users can earn money if they refer new members. You can also get cashback by promoting Temu's products. Temu Affiliate Program lets you earn money promoting our products. Some hacks can give you free PayPal cash and cash rewards. Temu makes it easy to earn money using these hacks.
What's the Temu Sign-Up Bonus?
When you sign up through Temu's referral link or affiliate code, you'll get $10. If you download the app, you'll get a $5 coupon. Signup bonuses are only available to users with their email or phone number. As part of the referral program, you can get bonus points by completing daily or weekly goals. The more people sign up through their link, the more credit they get. Signing up through their link will get you credit. It's easy to make money with Temu's bonus and reward program.
Where can I join the Temu Affiliate Program?
Currently, Temu Affiliate Program is only available to USA residents. It's coming to other countries soon. It'll be available in other countries sooner or later since Temu is already available in many countries. Temu Affiliate Program is a good affiliate program if you're looking for high commissions. This is one of the best affiliate programs around. You get commissions on sales your referrals make!
Conclusion
Now that you have read the Temu Affiliate Program Review, you know Temu platform has a referral opportunity, spin-the-wheel games, and affiliate programs that users can use to make money.
It's important to remember that these money-making methods may only make you a little money. Temu's low prices and free shipping come from its cost and profit structure, which could result in quality control issues and unhappy customers.
Temu might be a good option for people looking for affordable goods. If buying something online, read the seller's reviews and return policy. Temu's money-making opportunities might be worth exploring if you want to make some extra cash, but users should be careful.