Are you troubled by the bad odor coming from your pet and looking for a good Odor Remover that can remove the odor coming from your pet? In this Pooph Review article, we will provide detailed information about Pooph Odor & Stain Remover and see how effective it is.
As a pet owner, you would never want to deal with odors in your pet, but sometimes no matter how much you care, the pet starts smelling and it becomes very difficult to tolerate the smell coming from it. That's why in this article we will talk about Pooph Odor & Stain Remover in detail and come to the conclusion of whether it is worth using it or not.
Pooph Spray: An Overview
Pooph Spray Odor & Stain Eliminator is used to remove Odors coming from pets like dogs and cats. Pooph Spray has not used any kind of harmful chemicals due to which it is safe to use. Pooph claims that it is a fragrance-free, safe & non-toxic spray.
According to the information given on Pooph's official website, this spray removes odors at the molecular level so that they never come back. This spray also removes those bad smells due to which pets urinate again and again at the same place. This spray is safe for everyone from humans to pets, planets, and plants.
If you are thinking of buying Pooph Odor Eliminator, then there is a lot of information about this odor and stain remover which you should know. That is why in this Pooph Review article we have tried to provide all possible information that you should know before buying this Pooph spray.
How Does Pooph Spray Work?
Pooph spray has achieved a lot of success in terms of odor elimination with the help of its powerful molecular dismantling technology. Unlike traditional enzymatic formulas that slowly break down odors and often leave behind residual odors, Pooph Spray goes to work quickly and completely eradicates the main source of odors.
When this spray is sprayed onto a surface or into the air, it releases specialized compounds that rapidly penetrate odor-causing substances, breaking them down into their basic molecular components. With the help of a molecular dismantling process, this spray effectively neutralizes and eliminates odors by changing the chemical structure of odor molecules.
Pooph Review: Pros & Cons of Pooph Spray
If you are thinking of buying Pooph Spray to remove the smell coming from your pets like dogs and cats. Then before that you should know about the pros and cons of this spray. After knowing the pros and cons of Pooph Spray, you can compare it with other odor removers available in the market and see which odor remover will be right for you.
| | |
| --- | --- |
| Pros | Cons |
| Free from Harsh Chemicals | Higher Pricing |
| 30 Days Money Back Guarantee | Packaging Issue (Leaked and Broken Bottle) |
| Safe for people, pets, plants, and the planet | |
| Great Reviews | |
| Remove the smell and the stain | |
Pooph Odor Remover: User Reviews
This Pooph Odor & Stain Remover Review article is incomplete until I know what the users of Pooph Odor & Stain Remover think about this product. The right way to get the right information about any product is by knowing the views of those people who are already using it or have used it. Let's see what the users of Pooph Odor & Stain Remover say about it. Here we will see user reviews available on both Walmart and Amazon platforms and ignore Pooph's official website as they can be fake.
Poop User Reviews on Amazon & Walmart
Poop Odor & Stain Remover has a 4 out of 5 user rating on Amazon and the same on Walmart. On Amazon 14,739 users have given ratings to this spray out of which 58% have given it a 5-star rating, 14% have a 4-star rating, 11% have a 3-star rating, 5% have a 2-star rating and 12% have Gave 1-star rating.  
When it comes to Walmart, here 4288 users have given a rating to this product, out of which 64.7% users have 5-star ratings, 7.9% users have 4-star ratings, 5.3% users have 3-star ratings, and 5.1% users have 2-star ratings. rating and 17% of users have given a 1-star rating rating.
Most of the users are happy with Poop Odor & Stain Remover and it has been successful in meeting their expectations, but still, there are some users who are not happy with it. Let us see what are the reasons why it got a good rating and also know the reason why it got a negative rating.
Let's Start with a Positive Rating
In the above image, a user named Debbie has explained her experience with Pooph Odor & Stain Remover in detail. According to Debbie, before using Pooph, she tried many Odor & Stain Removers because she saw mixed reviews of Pooph, which created doubt in her mind about this product, but she did not get success with any Odor & Stain Remover. As a last try, when she used Pooph, surprisingly it completely removed the smell.
In this review, a user (Anne Townsend) shared her experience with this Pooph spray and told how when she came back from vacation her fridge was stained and smelled. From cleaning the fridge to using various odor and stain removers to no avail. After this, when I used Pooph on the advice of my brother, the fridge became free from all odors and stains. Saved us a new replacement fridge!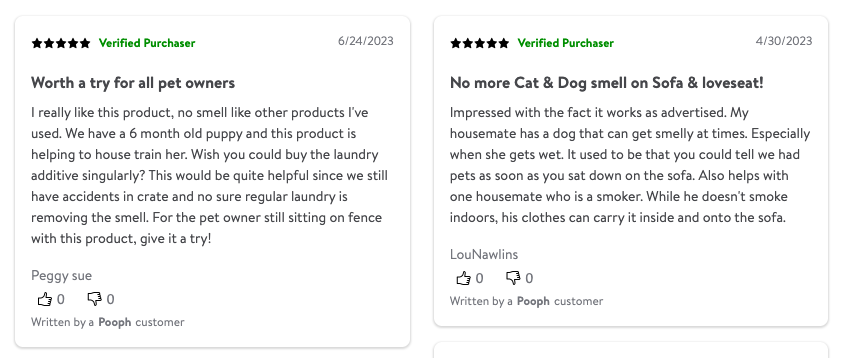 The above screenshot is a review of some satisfied users about Pooph spray available in Walmart. Here it can be seen how they successfully removed the odor coming from their pets with the help of poop odor remover.
Let's Check Some Negative Reviews by Users
The image above shows user reviews of Pooph sprays available on Amazon, if you look at these reviews carefully, they look like negative marketing of Pooph spray and very clever marketing of Febreeze Pet Odor eliminator, however, There are other negative reviews too but after looking at them it is known that negative marketing of Pooph Odor eliminator is also being done.
Watch Video Review
Final Thought
In this Pooph Review article, we have covered all the points that any buyer should know about. In this article, we have explained in detail about the pros, cons, user reviews, and working methods of Pooph dog, cat odor, and stain remover. According to the information given above, Pooph is one of the best odor and stain removers.
FAQ's
Where to Buy Pooph Odor & Stain Remover?
If you want to buy Pooph Odor & Stain Remover, then you can buy it online from its official website or e-commerce websites like Amazon and Walmart.
Does Pooph Work on Cigarette Smoke?
There is no such information available that confirms that Pooph removes the smell of cigarette smoke, although there are answers from some Amazon customers who used it to remove the smell of cigarette smoke and they did not get any benefit. Not done.
Does Pooph Work on Human Urine?
Ammonia is the main reason for the odor coming from urine, be it dog, cat, or human. That's why Pooph is successful in removing the smell of Human Urine as well.