Are you searching for the best coworking space in Los Angeles? Well, you will find a surge in the coworking culture and its impact on increased productivity, experience and overall networking. If yes, we have shared some of the top-notch coworking spaces that are popular in Los Angeles. Los Angeles is brimming with new opportunities since most of the tech giants have their homes here. It's buzzing with out-of-the-box and creative ideas that need a space to accomplish them all. So, here we are with every superb coworking space in Los Angeles that you are going to love!
Best Coworking Spaces in Los Angeles
Given below are some of the terrific coworking spaces in Los Angeles that proffer both professional ambiance and creative growth experiences. So, let's begin!
Blankspaces Coworking space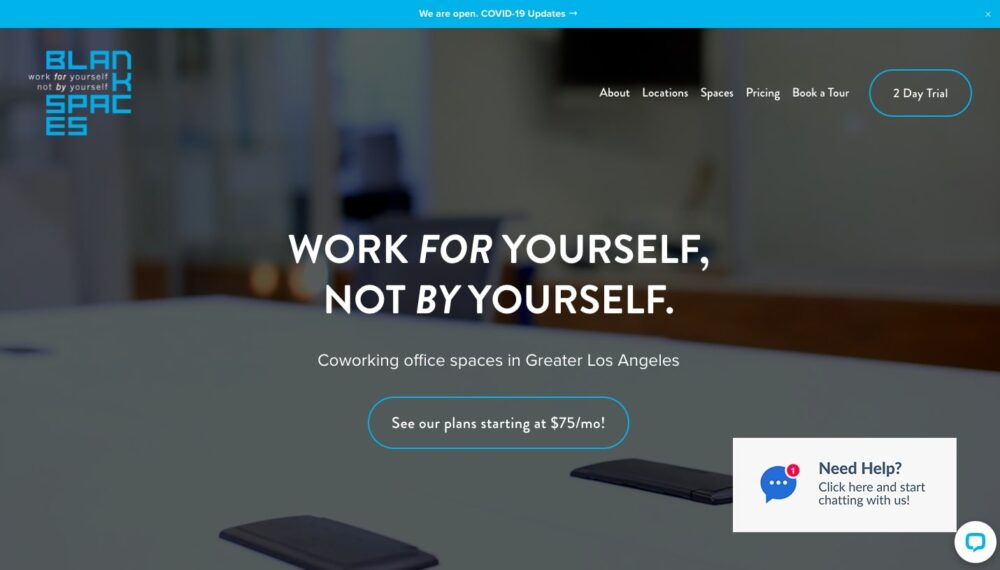 Well, whether you are looking for a nice place to conduct a casual meeting for your startup or a professional business meeting, Blankspaces Coworking space will cater to all your needs.
The space offers high-speed internet connectivity, free refreshments, and printing and scanning facilities. Moreover, you can enjoy several perks during the happy hours and book the space for your gathering.
The space is clean and aesthetically beautiful, so you can find peace while conducting your meetings and other professional gatherings. The place is perfect for entrepreneurs, business persons, and startups to conduct informal and formal meetings. The space is open five days a week from Monday to Friday with 8:00 am to 6:00 pm timings.
Website: https://www.blankspaces.com/
Address: 1450 2nd St, Santa Monica, CA 90401, United States
Rating: 9/10
Pricing: You can book a virtual desk for 75 dollars per month, a work cafe at 225 dollars per month, and a workstation at 300 dollars per month.
WeWork Gas Company Tower
With a trendy working space, WeWork Gas Company Tower serves as one of the most popular LA coworking spaces. The tower is home to a heterogeneous mix of businesses. The tower has a light ambiance with tons of windows offering a fantastic view of the Los Angeles skyline.
The members of the tower enjoy ample parking space and valet service. Moreover, there is a bike room for the commuters to park their two-wheelers. Besides this, the tower is nearer to Perch, which is the top local café for refreshments.
Moreover, you can find several local eateries to enjoy your lunch or have a quick bite. You can avail of the services of meeting rooms, private desks, and phone booths. The staff is pretty friendly and works to maintain a refined and creative vibe in the whole space.
Website: https://www.wework.com/buildings/gas-company-tower–los-angeles–CA
Address: 555 W 5th St 35th floor, Los Angeles, CA 90013, United States
Rating: 9.5/10
Pricing: The meeting room rent starts at 10 dollars per seat per hour while the hot desks day pass comes at 29 dollars per day.
LAX Coworking Space in Los Angeles
Next on the list is LAX Coworking Space which is also located in Los Angeles. The best thing about this working space is that you can get ample benefits from the community events that take place in the venue.
You can expand the reach of your brand through these events and build a solid network. Moreover, you get high-speed WiFi services so that you can connect to the cloud and manage all your data.
Besides all this, you get member discounts, free in-house printing services, an on-site kitchen, and happy hours. Another perk of this excellent coworking space in LA is the mentorship programs. You can take part in them and add more skills to your skill set.
Website: https://liquidspace.com/us/ca/los-angeles/lax-coworking-space
Address: 9100 S Sepulveda Blvd #210, Los Angeles, CA 90045, United States
Rating: 9/10
Pricing: The space offers day passes at 20 dollars per day. You can opt for the membership of the space by paying 159 dollars per month.
Dots Space Coworking Space in Los Angeles
Are you interested in a spacious, comfortable, and peaceful coworking space in Los Angeles? Don't worry. Dots Space Coworking Space will cater to all your needs with its spacious office, excellent amenities, and well-trained staff in this fast-paced city. You will enjoy spacious rooms, adjustable desks, and comfortable rooms. The best thing is that all the rooms are soundproof so there will be no unnecessary disturbances.
The space is open from Monday to Friday with 9:00 am to 5:00 pm working hours. You get access to conference rooms, phone booths, an in-house organic kitchen, meditation rooms, massage services, a free café, a podcast room, and a yoga space.
You will enjoy high-speed WiFi, printer, scanner, and fax services, making it an ideal space for working professionals. In short words, you will get a friendly ambiance in the space with tons of perks and amenities to conduct your informal and business meetings.
Website: https://www.dotsspace.com/
Address: 113 N San Vicente Blvd, Beverly Hills, CA 90211, United States
Rating: 9.5/10
Pricing: You have to pay 195 dollars per month for starter space, 295 dollars per month for co-work space, 395 dollars per month for dedicated space, and 495 dollars per month for a private desk.
Phase Two
Adorned with a cool indoor and outdoor space, Phase Two is your best hub that has a blend of both entertainment and technology. It has a great place to showcase exciting visual effects along with its designers.
Its noteworthy rooms with free private parking and friendly staff make it the best joint for every budding freelancer, entrepreneur as well as startup. This has made it a renowned coworking space in LA.
Since there is a designated space for events, conferences, productions, and sound, you will find it perfect for organizing any of your special events without any hassle.
Website: https://www.phasetwospace.com/
Address: 5877 Obama Blvd, Los Angeles, California, United States
Rating: 8/10
Pricing: You have to pay 325 dollars for a hot desk, while a dedicated desk costs about 425 dollars. You need to pay an extra fee for parking on a monthly basis.
The Muse Rooms
Are you a writer, coder, or designer looking for the right space to work on your dream project? Well, The Muse Room will match your description of that perfect coworking space with its amazing furnished as well as unfurnished areas.
Since there are no distractions at this terrific place, it is just a match made in heaven for entrepreneurs, startups, and freelancers. Its marvelous admin services, air-conditioned space, beverages access, high-end security, and high-speed internet make it a top-notch working space.
Besides that, it also offers free parking, free printing, lockers, and discounted meeting space. On top of that, many monthly professional events help you in network expansion and create excellent opportunities for you. 
Website: https://www.themuserooms.com/
Address: 826 S Victory Blvd, Burbank, CA 91502, United States
Rating: 8.5/10
Pricing: A day pass comes at 25 dollars per day. While open space can be rented for 300 dollars per month, a private office takes 650 dollars per month.
Epiphany Space
Epiphany Space provides the best creative coworking area that helps you to get a plethora of meeting rooms and instant access to cafes and restaurants. Since it has a quiet, calm, and peaceful location with welcoming staff, it is perfectly suited for your deep working hours.
Opening from 9 am to 6 pm, this place also comes with high-speed internet, a rehearsal area, a Phone Booth, Admin Services, Security, and a conference area. These are just apt for freelancers, small enterprises, and startups.
The best part is that it is super affordable as well as it comes with free parking too. So, reserve your private meeting room today to get enchanted by its friendly and vibrant vibe.
Website: https://epiphanyspace.com/
Address: 1763 N Gower St, Los Angeles, California, United States
Rating: 8/10
Pricing: 20 dollars for one day pass, and monthly membership comes at 200 dollars
Some Last Words
When you are looking for some of the best coworking spaces, Los Angeles never fails to impress you. It boasts numerous coworking space options that help in fulfilling every professional and business need. So, you can decide among any of the above options to get a more lively experience in the coworking space. We are sure you will love all the locations shared above.