If you are looking for Coworking Space in Orlando then this city gives you many options. All the basic facilities are available for doing office work in all these Coworking Spaces. There are various types of coworking options available in Orlando, which you can choose according to your requirement.
These coworking spaces fulfill the requirement of freelancers, startups, and small businesses to large businesses. Coworking spaces provide a better environment than working in an office, for example, a coworking space offers a working space along with other facilities like a fitness center, ventilated space, etc.
A Coworking Space is quite affordable as compared to working in a Traditional office it is 60-75% cost-effective as compared to the common office. Although there is no shortage of Coworking Spaces in Orlando, in this article we have made a list of some of the best and most affordable Coworking Spaces, which will help you find the best Coworking Space for you.
6 Best Coworking Spaces in Orlando
Are you ready to find a coworking space for yourself or your employees in Orlando? Below in this article, we have given a list of the best coworking spaces in Orlando, you can choose any option according to your need.
Venture X Downtown Orlando
We have given Venture X the first place on our list. This coworking space is located in downtown Orlando with a variety of amenities, high-speed internet, and flexible membership options Venture X offers the best coworking space in Orlando.
If you are looking for a private office, dedicated desk, shared desk, meeting room or more Venture X have all types of options available for you. You can choose any type of option according to your needs.
Along with the coworking place in Orlando, Venture X offers many other facilities such as a cafe & lounge area, high-speed internet, keycard access, security cameras, 24*7 janitorial services, etc.
Website: https://venturex.com/locations/downtown-orlando/
Address: 100 E Pine St #110, Orlando, FL 32801
Venture X has a 4.7 out of 5 rating on Google reviews, clearly indicating that almost all businesses, freelancers, and others who utilize their coworking space are highly satisfied.
StarterStudio Orlando
StarterStudio is one of the best choices for coworking space in Orlando, specifically for tech startups and entrepreneurs. Along with coworking spaces they also provide an innovative environment that fosters collaboration and growth.
Apart from the workspace, StarterStudio also provides resources and support for startups, such as mentorship programs, educational workshops, networking events, and guidance to tech startups with the help of local government, educational institutions, and corporate sponsors.
Along with all this, StarterStudio has good restaurants, cafes, and eateries available that provide you with good food all the time. The crew members working here keep it clean all the time and provide you with a nice and clean place to work.
Website: https://www.starterstudio.org/
Address: 130 S Orange Ave Suite B, Orlando, FL 32801
This coworking space maintains a 4.5 rating out of 5, which makes it an ideal coworking space for everyone.
Pipeline Orlando Coworking Space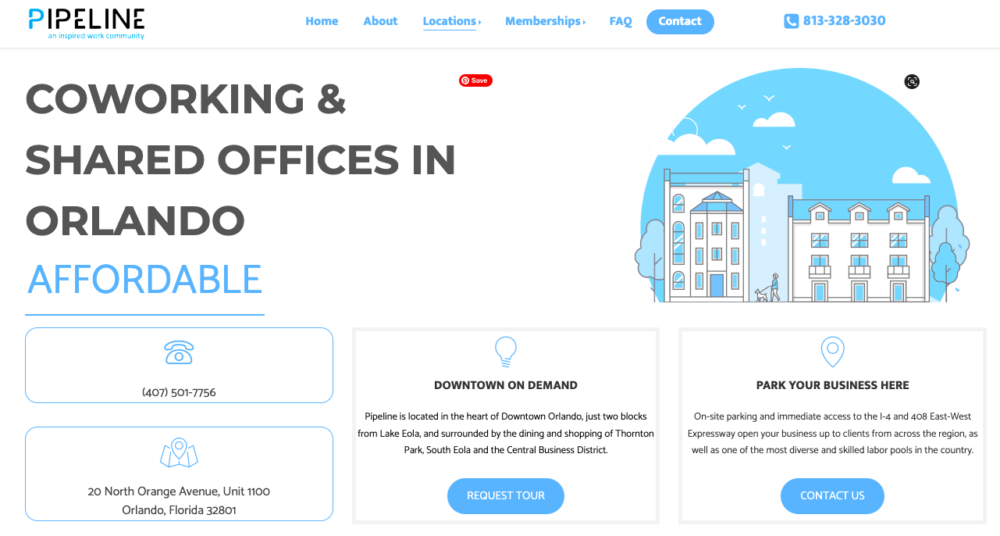 With first-class private suites, dedicated desks, flex space, virtual offices, and many other options Pipeline WorkSpaces is one of the best choices for coworking spaces in Orlando.
This coworking space offers 24*7 access, high-speed internet (Wired & Wifi), receptionist services, a coffee bar, and much more. Along with this as per your need, you can also avail locker facility for you.
In this "Pipeline Work Spaces," there are lots of networking events hosted that give you business growth opportunities.
Website: https://pipelineworkspaces.com/locations/orlando/
Address: 20 N Orange Ave Suite 1100, Orlando, FL 32801
While checking on Google there is not a single bad review about this amazing coworking space.
Serendipity Labs Orlando
Serendipity Labs has been featured in many publications like the Wall Street Journal, Entrepreneur Magazine, and Forbes. It is one of the most reputed coworking spaces in Orlando which provides you with all types of workspace solutions that any business professionals, freelancers, or entrepreneurs are looking for in a coworking space.
This coworking space offers monthly or daily passes according to your needs. Along with this, you will get access to all the amenities such as meeting rooms, conference rooms, high-speed internet, and many more.
Website: https://serendipitylabs.com/us/fl/orlando-downtown/
Address: 450 S Orange Ave, 3rd Floor, Orlando, Florida 32801
If you are still confused, you can check out the reviews on Google Maps given by professionals who already tried this coworking space. 58 users give a 5* rating to this coworking space and not a single review shows dis-satisfaction.
Regus Orlando
If you are searching for collaborative and growth-oriented coworking space in Orlando, Regus Coworking Spaces offers you a dynamic and vibrant environment. Whether you're a freelancer, an entrepreneur, or part of a larger team, Regus offers flexible options to meet your needs.
Regus offers coworking space in 8 in Orlando city, with 523 private offices, 49 coworking desks, and 14 meeting rooms, you can find the perfect space that suits the size and requirements of yours and your team.
With Regus, you can customize your workspace according to your preferences. Whether it's adding statement furniture, incorporating your brand's identity, or choosing specific colors for the walls, you have the freedom to create a space that reflects your company culture.
Website: https://www.regus.com/en-us/united-states/florida/orlando
Address: 111 N Orange Ave Suite 800, Orlando, FL 32801
Address: 618 E South St Building, Suite 500, Orlando, FL 32801
Address: 5323 Millenia Lakes Blvd #300, Orlando, FL 32839
Address: 6900 Tavistock Lakes Blvd Suite 400, Orlando, FL 32827
Address: 9100 Conroy Windermere Rd STE 200, Windermere, FL 34786
Address: 3505 Lake Lynda Dr #200, Orlando, FL 32817
Industrious 300 S Orange Avenue
Industrious 300 S Orange Avenue is the final coworking space on our list, but as the proverb goes, "last but not least," it is a fitting description for this exceptional coworking space. It stands out as one of the top choices for professionals and teams, offering excellent amenities and a conducive working environment.
Industrious 300 S Orange Avenue offers a variety of workspace options, including private offices, virtual offices, dedicated desks, and an On-Demand Meeting Room. The space is designed with modern aesthetics and provides a professional and comfortable environment for individuals and teams.
In the "Industrious 300 S Orange Avenue" amenities package this amazing coworking space offers coffee and breakfast to the visitors daily. Along with this you also get Fitness Center and Dining Options here.
Website: https://www.industriousoffice.com/locations/300-s-orange-avenue-suite-1000
Address: 300 S Orange Ave # 1000, Orlando, FL 32801
Conclusion
In this article, we add the list of "top coworking spaces in Orlando". All these options are one of the best options you can choose. Each of these coworking spaces provides you with the best amenities and a professional environment for individuals or teams. If you want to work from a coworking space, check out these options and choose the one that suits your needs.