The increase in the number of people working from home is rapidly shifting the modern home office landscape. Workspaces are becoming essential in your home, whether working remotely permanently or needing your home office space to work on projects. A floor desk allows you to create an instant office space anywhere within your home. 
List of the Best Floor Desks
This guide is for you if you've been searching for floor desk ideas to level up your home office space. We bring you an insight into the five best floor desks that match your work-from-home needs.
1. Cooper Mega Table Floor Bed Desk
The Cooper Mega Table Floor Bed Desk referred to as Table Mate, is a worthy addition to your home office. This table boasts an XL multifunctional workstation that turns any space into an instant office. Its versatile and multipurpose functions include;
Laptop stands for couch/bed
TV dinner tray
Picnic table
Study table for sofa/bed
Mini writing table
Kids' games table
Bed desk for writing and laptop
Sofa/bedroom food & breakfast tray
The Cooper Mega Table Floor Bed Desk serves all your needs. Here's why we recommend it;
Simple Setup And Storage
A good floor desk for a computer shouldn't require a complex setup procedure. The Cooper Mega Table Floor Bed Desk doesn't require any assembly. All you need to do is open the table legs and be ready to go.
The slot underneath the table is a bookstand, while the open drawer is for storing items or serving as a stand for your phone. Storage is not a problem as you fold the legs and slide the table under your bed or couch once you're done.
Stable & Firm Grip
Thanks to the reinforced aluminum alloy legs, the table has a tight and stable grip. The manufacturer has tested each leg fold at least 2000 times to enhance quality.
The legs are also covered with anti-silicon pads and plastic extensions to enhance stability and balance.
The Ergonomic Design
The desk's front tabletop is carefully crafted for comfort with an extra-large surface to accommodate a 17″ screen and mouse pad. The wide groove stand is compatible with all your smartphones and tablets.
The table stands at 10.6 inches high with a 25.6″ × 19.3″ work area, making it a great couch or bed breakfast tray. It's also lightweight, with a maximum weight of 6.8 lbs / 3.1 kg, making it convenient to carry.
Multiple Storages
This floor desk for students has a bookstand, fold-out legs, a built-in iPad for your smartphone, and a side drawer for your pens, cables, phone, or coffee mug.
A 3-Year Warranty The 3-year warranty proves that you're in for a quality floor desk.
2. SONGMICS Large Laptop Stand Floor Desk
The SONGMICS is a premium bamboo floor desk that can carry vast laptop sizes. This practical and durable desktop can serve as a reading desk, a working desk, a laptop table, and a breakfast tray. You can use it on the floor, bed, couch, recliner car, and other outdoor places. It's the best choice for you if you love having breakfast in bed.
Key specifications;
Bamboo material
Dimensions: 21. 65″L x 13.78″W x 13.78″H (55 x 35 x 35cm)
Adjustable height: 9. 1″ – 13. 8″ (23 – 35cm)
Weight: 6. 6 lbs (3 kg)
Cool Features
Thanks to the 100% solid and durable natural bamboo, the table is built to last. It can withstand significant weight without deforming or wearing out.
The multipurpose lap desk has plenty of space to allow you to complete your projects while taking breakfast. Do your arts, surf the net, or read while sitting comfortably on your bed or couch, sipping your cup of coffee on a lazy Saturday morning.
The 9.1″-13.8″ adjustable height combined with five angled positions enhances a diverse viewing experience. The SONGMICS Large Laptop Stand Floor Desk is for you if you're searching for a best floor desk for adults that fit different heights. It's also equipped with two metallic latches to reduce leg wobbling.
The bonus drawer design stores your pens, flash disks, and stickers hassle-free. It also comes pre-assembled to keep you going as soon as you get it out of the box.
3. Nnewvante Foldable Lap Desk
The Nnewvante Foldable Lap Desk is the best floor desk for adults if you're looking for a home office desk that redefines sophistication and elegance. This bamboo floor desk features a natural lacquered finish representing style and taste. Here's why we love it.
Adjustable Height And Easy Storage 
This desk floor's height ranges between 11″ and 15.75″, making it an ideal and comfortable floor desk to use irrespective of your height. The desk is easy to store as you can fold and push it under the bed or couch or place it in a corner with minimum space.
Stable & Firm
The table has four leg latches to enhance its stability, unlike traditional lap desks with two leg latches. The legs also feature durable and sturdy construction to prevent them from folding inwards while using it.
Large Size and Multipurpose 
Nnewvante features a spacious surface(25.6″Lx17.7″ W) that accommodates an 18-inch laptop and selected extra items making it your perfect floor desk for a computer. The table has sufficient leg room that prevents bumping on the tray top. You can use it for a range of activities, including;
Laptop desk
Serving desk for kids/patients
TV dinner tray
Book tray
Floor desk for coffee
Writing and study desk
The desk comes with a satisfaction guarantee and a one-year warranty.
4. NEARPOW Multifunctional Floor Desk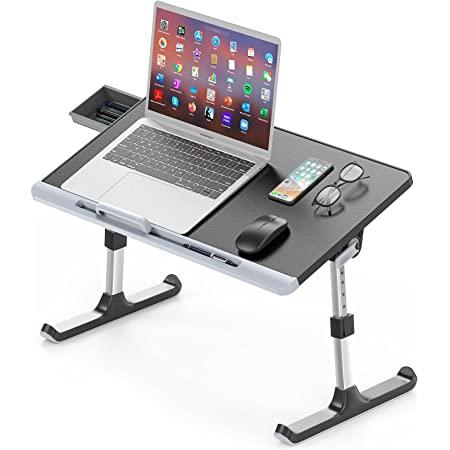 The NEARPOW Multifunctional Floor Desk is a lightweight, durable, eco-friendly floor desk tailored to meet your needs. The desk features a high-quality folding size, and you can carry it hassle-free, thanks to its lightweight nature.
The two foldable legs are adjustable to 5 different positions making it an excellent floor desk for your home office space. Here's a summary of the desk's cool features.
Large Size
The floor desk's 24 x 14 x 2 inches offers ample space for daily home office needs. It's an excellent floor desk for a computer that accommodates a 17″ Laptop besides leaving extra space for a mouse and notebook.
Pre-Assembled
The pre-assembled desk is easy-to-use as no complex installation procedures are required. It also has an auto-lock button for the five positions height adjustment on each leg. The two clamps allow you to adjust the surface angle to your ideal view experience, making it a perfect floor desk for students.
High Versatility & Portability
This highly portable floor desk is ideal for multifunctional purposes, including;
Workstation
TV snack or dining tray
Laptop table or stand
Bedroom breakfast table
Sofa desk
NEARPOW Multifunctional Floor Desk has a two-year warranty and 30-day money-back guarantee.
5. Saiji Multipurpose Laptop Floor Desk
Are you searching for a visually appealing floor desk? Saiji Multipurpose Laptop Floor Desk offers cutting-edge features that redefine your home office space. Check the desk's cool features.
5 Positions Adjustable Height 
The Saiji Multipurpose Laptop Floor Desk has two auto-lock buttons on each side to adjust the height to five different positions. It's also equipped with two clamps to allow angle adjustment between 0°-36°.
Multi-Function
This multi-function floor desk is a suitable addition to your home office. You can use the desk as a;
Workstation
Kid's bedtable
Laptop table or stand
Mini writing table
Couch or bedtable
Office work standing table
The brand offer excellent after-sales service with 24-hour customer support to respond to your queries. You also enjoy a one-year warranty with room for a replacement. Floor desks are excellent home equipment if you don't have sufficient space for a sophisticated home office. Comfort is an essential element of working from home. A floor desk enhances your comfort by allowing you to customize your home office to match your needs. You can work from your bedroom with your favorite cup of coffee beside you or switch your office to the living room couch as you watch the news bulletin.