Most system or laptop users prefer the windows operating system for their work, as windows have abundant user-friendly features. But, the Blue Screen of Death (BSoD) is an annoying Windows issue among many users. It has the potential to crash the system in a variety of ways. An error code accompanies the BSoD problem that shows what kind of hardware issue the machine is experiencing. Many users in Windows 10 have been afflicted by a frequently occurring problem named kmode exception not handled or Windows 10 Blue Screen. In this article, we'll show you how to fix the Windows 10 kmode exception not handled error.
What is the Kmode Exception Not Handled Error?
When two or more applications clash or corrupt, the kmode exception not handled error occurs. This causes the software to shut down, or sometimes, a complete system crash. When a Kernel Mode Program throws an exception that the error handler can't handle, then it causes a system crash. There will usually be an error code of 0x0000001E, and the machine will occasionally reboot in a loop. Users might get stuck in a boot loop sometimes.
How to fix Kmode Exception Not Handled Error in Windows 10?
Luckily, kmode exception not handled isn't a significant problem, and you can resolve it in a matter of minutes with the right procedures. Find out how to do it by reading on.
If the blue screen prevents you from booting to Windows to try the options suggested below, then boot to Safe Mode and do the changes there.
Turn off Fast Startup
Run the Windows Memory Diagnostics Test
Update Device Drivers
Drive update driver with a driver updater
Disable the Antivirus Software
Use a repair tool
Update your BIOS
Uninstall ON/OFF Gigabyte
Repair problem using Windows
Set your CPU voltage Manually
Turn off Fast Startup
This method is one of the quick fixes for the what is kmode exception not handled error. Windows 10s Fast Startup feature could exacerbate this error. It's a Windows feature that enables quick recovery from shutdown and hibernation, but it might also mean that it reinstalls any previously installed drivers.
Disabling a Fast Startup can often extend the time your machine stays up or even solve the problem entirely.
Follow these procedures to turn off Fast Startup:
In Windows, go to Control Panel and choose System and Security -> Power Options.
Select Choose what the power buttons do from the left-hand menu.
If prompted, click the blue link at the top of the screen that says Change settings that are currently available.
Untick the box that says Turn on Fast Startup under Shutdown settings.
Click Save Changes when you're finished.
Run the Windows Memory Diagnostics Test
Windows Memory Diagnostic is a memory test for the operating system. It can help troubleshoot problems with the computer's RAM. During the test, a status bar will appear, showing whether any issues have been discovered. This diagnostic can also help troubleshoot the kmode exception not handled.
Open Windows memory diagnostics by typing "memory diagnostics" into the Windows 10 search box.
Click on the option Restart Now and check for problems (recommend).
Repair any issues that have been discovered, then restart Windows.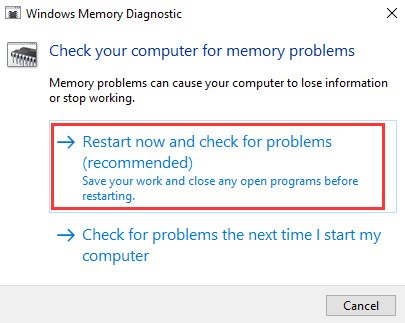 Update Device Drivers
If an outdated device driver is causing the error kmode exception not handled windows 10, you can update the driver manually in Device Manager or automatically with a driver updater.
Driver Update using Device Manager
Choose Device Manager by pressing Win + X.
To update the driver, go to "other devices" and right-click.
In the available option, click on "Search automatically for updated driver software" and wait for the result.
Drive update driver with a driver updater
It is inconvenient for most users to update device drivers manually; So, it requires a driver updater to update outdated drivers automatically. Driver Booster is a driver utility to update the device drivers and effectively fix common driver issues. You can upgrade the device driver in two steps with Driver Booster.
In a single click, you may update all of your outdated drivers.
After the driver update, restart the computer to see if the issues have been resolved.
Disable the Antivirus Software
Antivirus software has an evil reputation for destroying or quarantining important system files. This can also happen while you're updating or installing new drivers. As a result, it's recommended for the users to disable their antivirus program temporarily when updating the drivers or installing new software.
Locate the antivirus software's icon near the notification bar on the right side of the taskbar to turn it off and disable it by right-clicking on it. The procedure may differ depending on the antivirus product, so consult the user handbook for instructions.
Steps to disable antivirus are:
Select Windows Security by typing it in the start menu.
Select Virus and Threat Protection from the dashboard.
Turn off Real-time protection by clicking Manage Settings.
Please keep in mind that this is only a temporary turnoff. Restart your antivirus application once the new software or driver has finished installing.
Use a repair tool
If you want to rapidly and effectively resolve the kmode exception not handled windows 10 BSoD fault, use the Restoro repair tool. An online database that contains the most up-to-date working system files for Windows 10 PCs drives it, and it allows you to replace any items that could cause a BSoD error quickly. This software can also assist you by setting a restore point before beginning the repairs, allowing you to restore your system quickly to a previous version if something goes wrong.
The steps for using Restoro to fix registry issues are:
Download the Restoro app and install it. 
Start the application and wait for the application to identify any issues with stability or probable file corruption.
Press the Start Repair button.
And to make all the changes take effect, restart your computer.
Update your BIOS
An old version of BIOS can also produce the kmode exception not handled windows 10 problem sometimes. To update your BIOS, go to the website of your motherboard's manufacturer and get the most recent motherboard version in the downloads section. Also, verify your motherboard's instruction manual to learn how to update the BIOS properly.
Keep in mind that updating your BIOS is a complex procedure that, if done incorrectly, might result in lasting harm to your computer.
Uninstall ON/OFF Gigabyte
ON/OFF Gigabyte is a software that works with USB power stations, but most of the Windows 10 users have noted that this software's driver is obsolete and not compatible.
If you have such software installed on your computer, make sure to uninstall it.
Repair problem using Windows
The SFC scan can resolve the most errors and issues, including kmode exception not handled. It examines several files on your computer to ensure that everything is in working order. To complete the work in the command prompt, follow the steps outlined below.
Press Windows and R and open the command prompt.
Type 'sfc /scannow' and press Enter.
Wait for the procedure to finish, as it could take a long time and then restart to check whether the problem gets resolved.
Set your CPU voltage Manually
CPU is also playing a role in causing BSoD issues sometimes. You'll have to adjust the CPU voltage manually in this circumstance. This is a complex and sometimes dangerous procedure, so verify your motherboard manual and seek advice from a professional before doing it.
Conclusion
If you know what kmode exception is not handled and what's causing the error, it's not an insurmountable problem. You can fix the kmode exception issue using the methods listed above. If the issue remains after attempting all the above remedies, consider a fresh Windows 10 installation.